Accessories:
American Straight Steel offers a wide variety of accessories for the construction and maintenance of your steel building. Whether you are assembling your new building, or making additions to an existing building, American Straight Steel has the right tool for your job. If you have something in mind and don't see it here, just let us know. We have many other items available to help you enjoy your American Straight Steel building.



PBR Roof Panels
Purlin Bearing Rib Panel, or PBR, is superior to traditional rib panels for nearly all of your roofing applications. With a PBR panel from American Straight Steel, you can feel confident that these panels won't crimp or buckle. An extra lip on the edge of these panels provides superior overlap between panels and extra protection from the elements. PBR is another way that American Straight Steel protects your investments.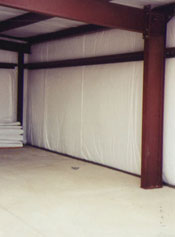 Insulation
At American Straight Steel, we offer two types of premium insulation products that have been specially developed for metal building construction. MasterTech Vapor-Lock Radiant Plus is an insulation which has a composite design consisting of polyethylene air pockets sandwiched between thick layers of industrial strength reflective coating. American Straight Steel also offer traditional WMP-VR fiberglass insulation in a variety of gauges and "R" values to suit your needs.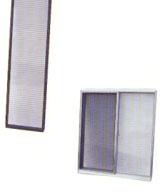 Horizontal Slide Windows
Aluminum horizontal sliding windows provide light and ventilation, and are virtually maintenance free. American Straight Steel has these windows stocked in 3030, 4030, and 6030 sizes. Available in both insulated and non-insulated clear glass, HS windows from American Straight Steel include latch, half screen and weather stripping.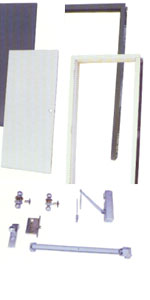 Walk Doors
Our walk doors are offered in a 3'x7' and 4'x7' single swing, or a 6'x7' double swing with 1.75" thick door leaves. American Straight Steel Doors come complete with all necessary hardware. These high quality doors are available with optional door closer, weather stripping, and other custom hardware items. The door leaves may be solid, or furnished with narrow-light or half glass panels. We also offer both insulated and non-insulated versions of our walk doors.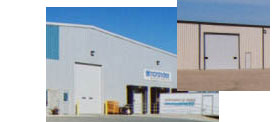 Doors
American Straight Steel offers a wide variety of doors to suit your needs. From our roll-up doors, available in a wide variety of sizes and colors, to our industrial strength sectional doors, suitable for many different uses, our selection is sizable. American Straight Steel also offers bi-fold and sliding doors for buildings with larger openings, such as airplane hangars and heavy equipment sheds.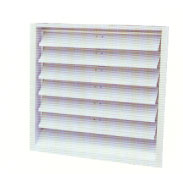 Wall Louvers
American Straight Steel has wall louvers available in 3' x 3', 4' x 3', and 3' x 4' sizes. Featuring either fixed or adjustable blades, these louvers have an overlapping design that will insure protection from the elements. These accessories are perfect for barns, stables, and automotive shops. When your building needs extra ventilation, American Straight Steel has the right louver for you.

Master-Guard Snow Stoppers
Our Master-Guard snow stoppers will prevent dangerous snow and ice movement, preventing costly losses. Measuring 5-1/4"w x 3 1/4"h x 3 1/4"d, these nearly invisible stoppers hold back snow and ice preventing damage to the roof, gutters, and trim. American Straight Steel snow stoppers include interchangeable "formed sides". These can be used to straddle intermediate, or stiffening ribs. Our snow stoppers can be easily installed with either adhesive or light-duty screws.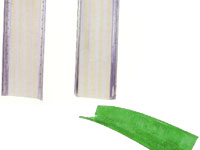 Reinforced Translucent Skylights
American Straight Steel offers translucent glass fiber skylights that share the same profile as roof and wall panels, and offer ample economical light for your building. Our translucent skylights are available with UL Class 90 wind code rating, making them a value in durability as well as practicality.

Stainless Steel Self-Drilling Fasteners
American Straight Steel believes that installation should not be a chore. Our self-drilling fasteners combine the separate functions of a drill and a fastener. This fastener is a value in both cost and performance. These fasteners are engineered for rapid drilling with no "creeping" or "slipping" of the drill point. This helps speed assembly while protecting your surfaces. Neoprene washers help keep your building watertight and provide vibration dampening.


Ridge & Circular Ventilators
American Straight Steel stocks ventilators in 10' lengths (for single or continuous ridge installation)and ridge ventilators with standard 9" or 12" throat openings (complete with bird screens). Our 12"x1'-11" ultra ridge vent and both our 20" and 24" circular ridge vents also include bird screens. Optional dampers, cable operators, and operator handles are available with all of our American Straight Steel ridge ventilators

Stall Systems
American Straight Steel has three packages available. We strive to have just the stall system that you want. From our component stall system to custom designed packages, all of our stall systems can be tailored to your specifications. At American Straight Steel we strive to provide accessories that you want and need, rather than making you settle for what we happen to have in stock.



Modular Space Partitions
Our modular panels provide quick, economical solutions for your interior space and partitioning needs. Whether for plant, office, stable, or other location, American Straight Steel partitions provide unlimited layout possibilities, ranging from a single 10' x 10' unit to a 25,000 square foot office complex. These units make quick and easy additions, too!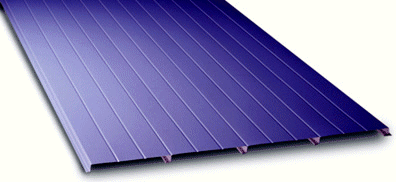 Roof & Wall Liner Panels
Our panels are finished with a beautiful color that is as durable as it is attractive. American Straight Steel liner panels are available in a range of colors from White to Lightstone, to Blue. A special feature is our galvalume substrate. Galvalume panels are manufactured of an aluminum-zinc alloy coated steel. Silicon is then applied to complete a highly corrosive-resistant panel. By combining the quality of aluminum with the added protection of zinc, our panels are beautiful to the eye and the pocket book.



Rockwall Coating
The Rockwall Coating provides the advantage of steel wall panel construction with the durable beauty of stone aggregate. The coating process bonds real stone aggregate to the steel panels with a super adhesive system. A clear sealer is used to finish the panel with a crisp glazed appearance.